Summer is here in full swing. The sun beats down hard and the rain drops without warning. It's the perfect season to have your deck, patio or outdoor area covered by an awning. You can choose the traditional route and get a fixed awning, or maybe travel down the contemporary road and install a retractable awning. Which kind of awning is the best? We here at Element Comfort Solutions have helped cover the greater Vancouver area for years now, and we believe we have the answer for you.
Fixed Awnings
Traditionally, fixed awnings have been used everywhere from restaurants to hotel resorts and everything in between. They're good if you live in temperate climates where the weather doesn't change very often. Depending on the material your awning is made out of, and how you care for it, it can be very strong and last for years. It provides shade and cover from the elements in a fixed area.
The biggest problem with fixed awnings is that they're confined to providing shade and cover for the area they're built over. Most cannot be adjusted depending on weather conditions. For instance, if it starts raining straight down, under a fixed awning, you'll probably be covered. But if the wind picks up and the rain starts coming in sideways, you or the establishment won't be able to adjust the awning for maximum protection. If you decide you'd like your awning in a different spot you won't be able to relocate it as it's specifically designed for the spot it was originally placed in.
Fabrics on fixed awnings are also usually made out of canvas or cotton. These materials don't last long under harsher weather conditions and often rot or fade quickly. The stronger fixed awning frames are usually made out of some kind of steel or aluminium, which can rust and break easily without proper upkeep.
Retractable Awnings
Unlike fixed awnings, retractable awnings can be placed just about anywhere. They can also be relocated if you find a better place for it. Most retractable awnings are m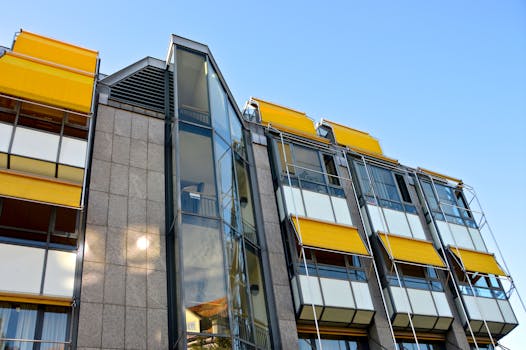 Most retractable awnings can also be customized. Though fixed awnings will often give you the option to choose the material it's made out of and fabric color, most retractable awnings can be changed at any time. You can also add accessories like motors for easy extension and retraction. Or you can attach sun and wind sensors that will automatically open or close your awning when too much wind or a lot of sun is detected. LED light strips can be affixed for the perfect lighting under your awning, or you can install a hood cover over the awning to protect it even while it's retracted.
ade out of weatherproof aluminum and utilize highly durable and customizable acrylic fabrics. If inclement weather arrives without warning, retractable awnings can be folded up and stored to help preserve them. If the weather is bad, but no one wants to stop the party, you can choose the angle of the awning to best help protect you and your guests against the elements. This method c
an also be used when it's just too sunny out. Select the perfect angle and stay in the shade even on the sunniest of summer days.
Element Comfort Solutions has the perfect awning for you. We have a large selection of retractable awnings as well as retractable screens that can fit any surface you need covered in the Vancouver area. You can learn more about who we are or contact us and ask one of our knowledgeable team members about any of our products and get a free consultation.